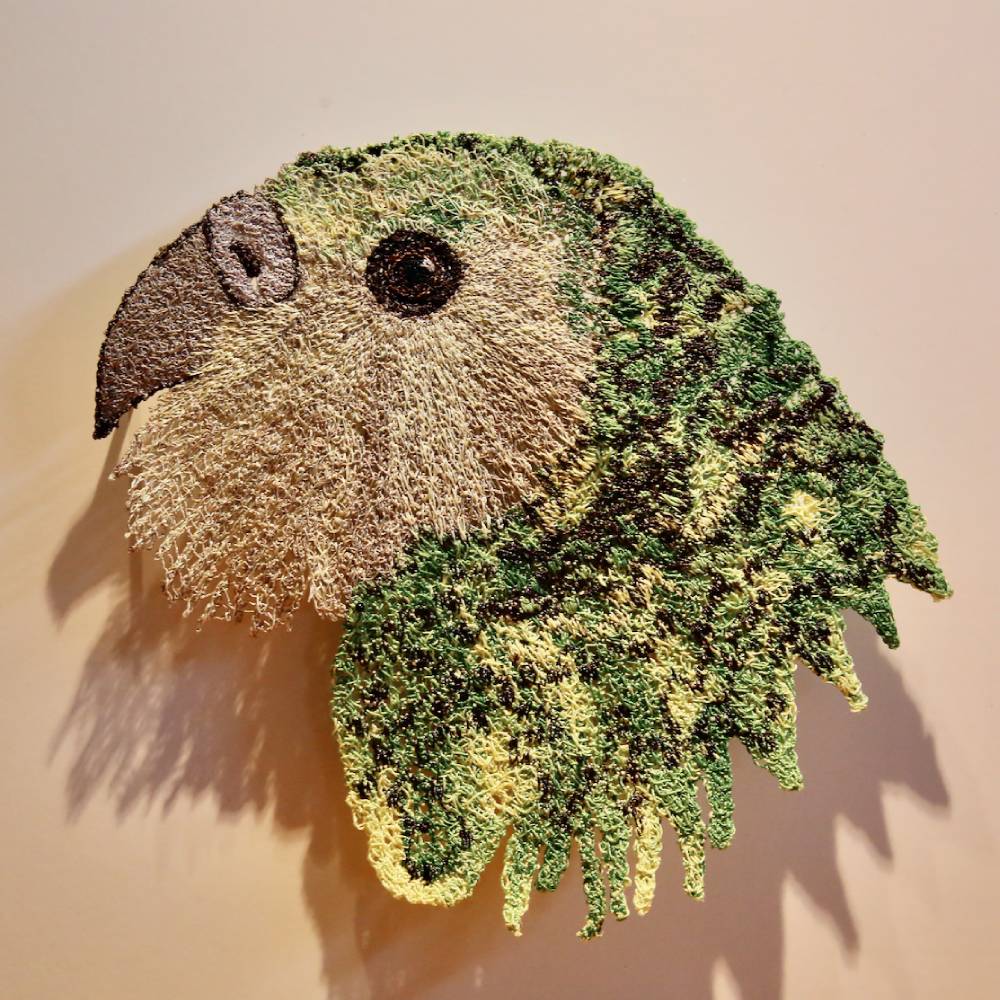 Capturing New Zealand's natural beauty
Treasure Aotearoa's wild flora and fauna with ethereal, vibrant artworks inspired by nature
Capture New Zealand's beauty in your space with NZ art like a handmade NZ sculpture, or order your own one-of-a-kind commission from an award-winning New Zealand artist
View all
Sculptural & Embroidered NZ Art
Cathy Jane weaves the wonder and character of the outside world into every intricate piece – from the fragile grace of a skeletal leaf to the glory of our native bird species.
Using contemporary sculptural embroidery techniques combined with elaborate hand embroidery, Cathy breathes life into every piece, creating stunning, ethereal works of NZ art that honour the fragility and splendour of mother nature.
Subscribe on YouTube for more Videos
I'm so grateful to find your incredible art! Kawakawa is special to me and love the holes. Your Kawakawa sculptural embroidery will be in good company in my home. Thanks Michele.

Avondale, New Zealand.
WOW, love your new pieces.  I have purchased the pink seaweed as was instant love.

Jocelyn Mccallum.

Maraetai, Auckland.
LOVE  my sculptural daisy!!!  It is stunning and Mum's commission piece of the white sculptural coral is perfect too.

Jocelyn Mccallum.

Maraetai, Auckland.
That's amazing!!
They are all so beautiful.
Have a great day.
Take care, Sam.

Samantha Dowsett

Lansdowne, New Zealand.
After an exceptionally busy few days at work I've  only just opened the parcel and met my mum's Kea for the first time!He's marvellous, thank you so much. So lifelike he looks like he's just about to have a go at your windscreen wipers!

Geraldine Trevella

England.
As soon as I laid my eyes on the artwork I was captured by it's beauty, and then also by it's intricate level of detail. It is as you say truly stunning. He looks as though he has a little (whimsical) smile on his face and has a character all of his own. I am sure it will be one of my most prized possessions.

Catherine

Papatoetoe, Auckland.
Incredibly fine, meticulous work to re-create a piece of jetsam that we might just step over on the beach. I love my new seaweed embroidery.

Diane

Waitakere, Auckland.
It was lovely to chat to you about your work and your process Cathy Jane, I'm so happy to have a little piece of yours to call my own.

Louis Hilton

Auckland
It bought tears to my eyes it was so lovely. Thank you so much Cathy.

Customer from NextDoor Gallery

Auckland.
Further Customer Feedback
I am thrilled with my new art work, and in awe of your talent!! I really love this piece, and I look forward to putting it on the wall next to my other botanical art pieces.

Cherie Hart - Murrays Bay, Auckland.